Audio clip: Adobe Flash Player (version 9 or above) is required to play this audio clip. Download the latest version here. You also need to have JavaScript enabled in your browser.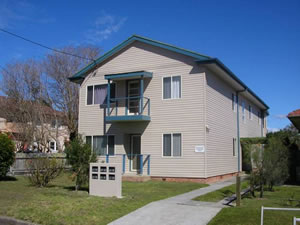 (Helen St, Forster)
Two bedroom, North facing unit is bright and peaceful. It has high ceilings and generously sized rooms. The kitchen is new! The bathrooms restored! featuring a massive, original, cast iron bath in which to relax. Bedrooms consist of 1 Queen bed, 2 single beds and a double fold out with foam mattress. Located on the ground floor of Helen st Forster 100 metres from the lake with its own entrance.
Sleeps 6            $52 – $220 per night           

(Lake St, Forster)
@ Forster – This 2 bedroom unit boasts a Large, Top floor, North Facing Balcony on which to soak up rays all day long. It has a massive kitchen which was recently renovated as was the bathroom with its original cast iron bath in which to relax. Lovely New!!!! comfortable pillowtop Queen Bed and 2 single ensembles on which to sleep and recover from all the fun you will be having.Relax on the Large "Natuzzi" Leather modular lounge and watch Digital TV or read a book. Located in a quiet rear of block position and features its own internal laundry. All cookware is supplied and New!!!Dine on the Funky Retro Formica table and matching Retro chair.
Sleeps 5          $52 – $220 per night        

Holiday rental at Forster has never been easier! Just three hours north of Sydney, Forster is a popular tourist, swimming, surfing and fishing destination.
Holiday accommodation at Forster is available for weekend, weekly or longer stays. We have a wide variety of accommodation styles to suit all budgets and tastes.
We currently offer two locations in Forster for holiday rental. Please feel free to browse our two properties above in Forster.